Social Media Management by Search Engine Wizards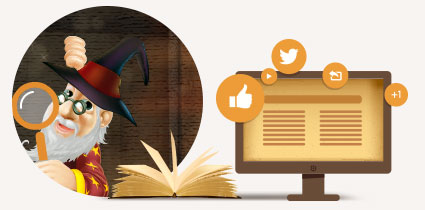 Whether your business is well-established with a long list of happy, returning customers or you're just getting started, maintaining a strong social media presence is an important step in increasing the reach of your brand and building industry authority. No matter where your business is located or how you have attracted customers in the past, creating a strong online presence and connecting with your customers is more important than ever.
The Internet has effectively replaced traditional media in many ways, and customers consistently turn to online resources for comparison shopping, deal hunting, and even customer support. If your company is not well represented, it's likely that you'll start seeing more and more prospective customers heading to competitors instead.
But we know what it's like running a business, and most company owners simply don't have time to learn the best strategies for their social media campaigns, let alone implement them on a large scale.
That's where we come in!
With years of experience following and keeping up with the constantly evolving online social world, we have the knowledge and practical skills to ensure your brand gets the attention it deserves.
Our social media experts will drive traffic to your website in order to increase your brand's online visibility while promoting your content to a wide, and interested, audience. Using social analytics, we will identify the demographics of your current audience in order to grow your fan base and help you engage with new prospects.
Twitter
Twitter is a great way to engage and interact with your followers and customers, improving their opinion of your business while increasing brand loyalty. By using timely tweets on hot button topics, we will help to improve the social connectivity of your business while driving your brand to reach greater heights of success than ever before. Through effective use of hashtags and direct interaction with top influencers, your Twitter campaign can help you achieve a whole new level of authority in your industry.
Facebook
Most business owners are aware that there are great opportunities for growth in advertising and sharing content on Facebook, but making the most of a Facebook campaign can be difficult without all the knowledge and tools of our social media gurus. Let our experts help you boost the reach of your brand, products, and services with our page optimization services to help build consumer trust for your company.
Benefits
Ensure your website always has fresh, relevant content to attract new readers
Harness years of social media management experience to make the most of your online campaigns
Promote your content through advertising, guest posting, link-building, and sharing strategies
Engage and interact with your target audience in order to grow your customer base and develop relationships
Promote special deals or offers to those most likely to benefit
Get people talking about your brand, products, and services
Content Creation
One of the keys to an effective online marketing strategy is the constant creation of evergreen content; content that remains relevant for a long time to come in order to keep bringing new readers to your site.
Written by experienced copywriters dedicated to providing each customer with 100% original content, all blog articles and guides are fully edited before delivery to ensure the highest quality. Published directly to your website, our content creation services include online promotion through social media channels such as Twitter and Facebook.
Start your Social Strategy with Search Engine Wizards
Search Engine Wizards are your comprehensive team who will create your content, schedule your posts, head your social marketing strategies and manage your entire social media presence. Contact our expert Wizards today to learn more about increasing your brand presence and engagement online today!
Back